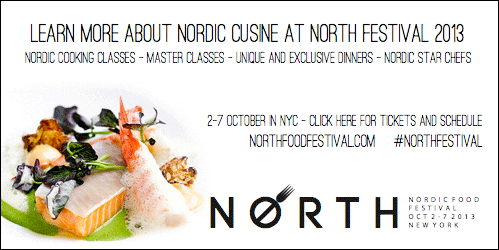 This post is a sponsored post as part of N
ORTH Festival Food Blogger Outreach
by online food magazine, Honest cooking.
Among countries I would like to visit includes Iceland, a beautiful
Nordic island country marking the juncture between the North Atlantic and Arctic Oceans, on the Mid-Atlantic Ridge formed as result of volcanic action. It is a sparsely populated area; the capital and largest city
Reykjavík
, is the highest populated area of Iceland. Iceland is almost the size of Kentucky and 2/3
rd
of population stays in its capital city Reykjavik.
If you are in Britain, you can catch flight to Reykjavik on Friday evening and spent the weekend there in Iceland and come back before week day's start.
Both I and my friend planed the trip duing my Britain trip.
However, I got sick and need to spend the entire holiday in London and was not able to make it to Iceland or France as planned. May be some time in future
I got very happy as I am selected to write a post on North Festival conducted by online food magazine Honest Cooking.
As a part of my post doctoral studies, I was able to stay and visit
Nordic countries
. My stay in Stockholm, Sweden taught me lot. I was able to visit Finland, Denmark, but missed Norway and Iceland as they were slightly expensive to my budget at that time, still made a plan, but was not able to fulfill as I wish. I understood that even though I would blame the sun during about hot and humid weather in South India, I missed him in the winter months when I was in Sweden. I read that in Iceland during summer months sun doesn't want to set and he sets in various times on plains and valley.
Iceland during the Midnight Sun is in sort of a permanent state of sunset. The sun never fully sets and travels horizontally across the horizon throughout the night. In 2012, the
earliest sunrise

was at

2:53am

on

June 18

and the

latest sunset

is at

12:06am

on

June 23

. The

latest sunrise

is at

11:24am

on

December 25

and the

earliest sunset

is at

3:27 pm

on

December 16

.
During the Arctic summer, sunset was at midnight and sunrise was at 3am. The Arctic summer sun provided 24 hours a day of light, with as much as 6 hours daily of "Golden light". Once the sun had set it wouldn't even get dark enough for the stars to come out, and they don't start to reappear until August.
watch around 0.51 video courtesy from
here
I know if sun treats you like this during summer, then he will play hide and seek during winter months making you depressed, bored etc.
Just like it scenic beauty, Iceland has its own food culture, they eat plenty of sea food

thanks

to its island, and also eat lamb as they are abundant and busy grazing the grasses of the plains and valley. Fruits and vegetables are grown in green houses, rest they import from other countries. As winters are long and harsh vegetables are grown for few months.

Most sturdy grain rye is prominent in their breads, pancakes etc. According to this
serious eats article
about Iceland, if you been to Iceland you will be asked these questions, did you eat Rúgbrauð: Icelandic thunder bread/ hot spring bread? Did you eat Skyr? Their cheese which looks like yogurt, they love to add it in everything, dip, dessert etc. I try to find one here, and I got one version from Whole foods, and it is more like a sour cream. Their hotdogs are made with lamb meat. In a YouTube video I have seen people standing in long line to buy that hotdog. Host of the show says that this is the best selling hot dog store in Iceland. Also read that their smoked salmon is best.

Icelanders like to snack dried fish, especially haddock with butter on the top. They also tend to eat birds, whale and even fermented shark. After eating fermented shark they drink their national drink Brennivín. Nicknamed "black death," the caraway-flavored schnapps is reminiscent of Aquavit . I also read they make very thin pancake, very see through version. pönnukökur, which is rolled up with sugar, jam etc. Iceland has its own cookies most famous is
Air cookies
While searching for a recipe to try, I found that Rúgbrauð: Icelandic thunder bread is the most commonly tried recipe, there are other recipes that you can find
here
and
here.
I am a bread loving person, so decide to try this bread. Brought Skyr from the store, even though recipe I adapted says it is sweet bread, I reduce the amount of molasses and used rye flour, bread flour and white whole wheat flour along with butter milk, yeast and salt.

I read that this bread is baked in hot springs for long hours. First I thought I will try with pressure cooker without putting weight on; but then I decided to bake it in steam filled oven with a water bath. I baked this bread for 1 hour and 30 minutes until it registered internal temperature of 200 °F. It is brown color bread taste delicious.
My husband told me he likes the bread as such not with skyr. I too find the same way. My kids enjoyed this bread also. Traditional way to serving is to well-butter on the side with soðning (plain boiled fish), or with cold
pickled herring
on top. Eat it with sliced ham or spread it with cream cheese, and if there is anything left, use it to make bread soup.
If you like rye bread, then give it a try, I think it taste more like Boston brown bread .This bread has long shelf life; you can store it for month. I don't think it going to last that long.

Especially try to toast them with butter it will be awesome.
| | |
| --- | --- |
| | Bon appetite / Verði þér að góðu |
Rúgbrauð: Icelandic thunder bread: North Festival
Preparation time: 20 minutes
Baking time: 1 hour 30 minutes
Ingredients:
1 cup /150g White whole wheat flour
11/2 tsp/6g Instant yeast (if you are using active dry yeast, you must proof the yeast with 1 tsp sugar and ¼ cup luke warm water)
Directions
In a bowl of kitchen aid stand mixer, add flours, salt, baking soda, yeast. Blend together molasses and buttermilk and add to flour yeast mixture with gradual mixing.
Mixture will be fairly thin, more like a cake batter than bread dough.
Transfer the batter into a lightly greased pan ( I used 9x13 inch loaf tin)

and smooth the top. Set aside for 60 minutes covered with plastic wrap and a damp towel.

You may or may not see any yeast activity at this time.
By the end of 60 minutes, preheat oven to 360F.

In the lower rack of your oven place a roasting pan filled with hot water for about half while the oven is preheating. This will create a hot steamy oven.
Bake, uncovered, for about an hour and half or it register an internal temperature of 200F or until a knife inserted in the middle comes out clean. Run a knife around the edges to loosen, let sit for just a couple minutes, and then turn over onto a cooling rack.
Once it is cooled completely cut the pieces and brush with warm butter and enjoy.
Tips to remember
If you are using active dry yeast make sure to proof the yeast before making to the dough.
You can also bake this bread in crock pot, I haven't done this
Make sure to fill the roasting pan with half full of water so that steam will retain through the entire baking. If you find water is low add more hot water.
Learn more about Nordic cuisine at the NORTH Festival 2013 in New York City. This post is collaboration between the blogger and
NORTH Festival 2013
.